I've been stalking various blogs for some time, and for a while a highlight of my week is when I get to check out everyone's What I Ate Wednesday (WIAW) posts. Jen over at Peas and Crayons is who I have to thank for this (minor) addiction, and finally I feel it's time for me to join the party! If anyone isn't already aware of what this WIAWing is all about, I think Jen puts it best:
WIAW is about food and fun! It's about making new friends, breaking out of a food rut, noting changes in your diet/lifestyle, inspiring yourself & others, embracing fruit & vegetables, nourishing your body with the foods that work for you, finding new ways to eat your favorite foods, and so. much. more.
Without further ado, let's get on with the show (and tell!)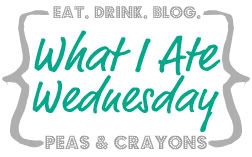 These were pancakes were my choice whilst staying at my parents over the weekend. Only 2 ingredients (eggs + banana = batter!), plus my mum had some fantastic bacon she had brought back from Wales that week. Seriously – the stuff is double the thickness of regular bacon! With a drizzle of maple syrup I was in heaven.
Pancakes have been one of my all-time favourites since I was mini, so being able to still enjoy them despite the grain-free deal is still super important to me.
Lunch was simple enough, prawns wrapped in bacon then stir fried, with cherry tomatoes and broccoli. I wouldn't normally go so nuts on bacon in one day but it was seriously… wow.
Another favourite came at dinner time – lamb! If you've seen me harping on about it on Twitter, I'll be brief: I bought a slow cooker
and I'm deliriously happy with it. So far it has made me 2 bone broths and one (hench!) shoulder of lamb. This hunk of lamb came out for dinner. I had no idea how good things can taste when cooked slowly! I'm all about speed – honestly, stir fries and the microwave have been my only cooking methods. Until now…
Oh yes, just spotted the butter and sauerkraut on the side. I'm not used to eating things without lots of flavours and sauces but the lamb really did all the work here. I wasn't too hungry after this meat feast, but I did nab one of these balls out of the freezer. I've been massively inspired by Nicky to make these creations for a while. My recipe was pretty simple and just about worked:
1 tbsp tahini
1 tbsp almond flour
1 tsp honey
Mix. Lick spoon. Freeze. Wait for it… pop in mouth.
I hope you enjoyed my first WIAW! I know I did. Not as much as that bacon though…